History of Elaine Coyne's Collectible Artwear
Early History
Elaine Coyne Galleries started out designing and producing unusual buckles/belts and then began to add jewelry. We became noted for complete collections and unique finishes, such as the one-of-a-kind verdigris patinas and later, earth patinas, gunmetal finishes, Distressed White Patina and Gold Washed Patina.
As the fashion industry began to take note of our arrival, we moved into a showroom and our sales doubled. We began to be established….A big thing for a young designer. In the mid-eighties, Elaine moved beyond commissions and personal appearances. TV and speaking engagements became normal fare. The personal appearances moved into Saks, Rich's, museums and art galleries. From the eighties on, we started to sell Neiman Marcus Catalogue, Nordstorm's, Nordstorm's Catelogue, Snooty Hooty, Potpourri, Henri Bendel, H. Stockton and very fine and established stores throughout the world.
1994 began a new division
Although we did not realize it was a new path at the time, we began to experiment with the internet. We registered our name: ecg.com back when domain names were issued at no cost and the average person had never heard of them anyway.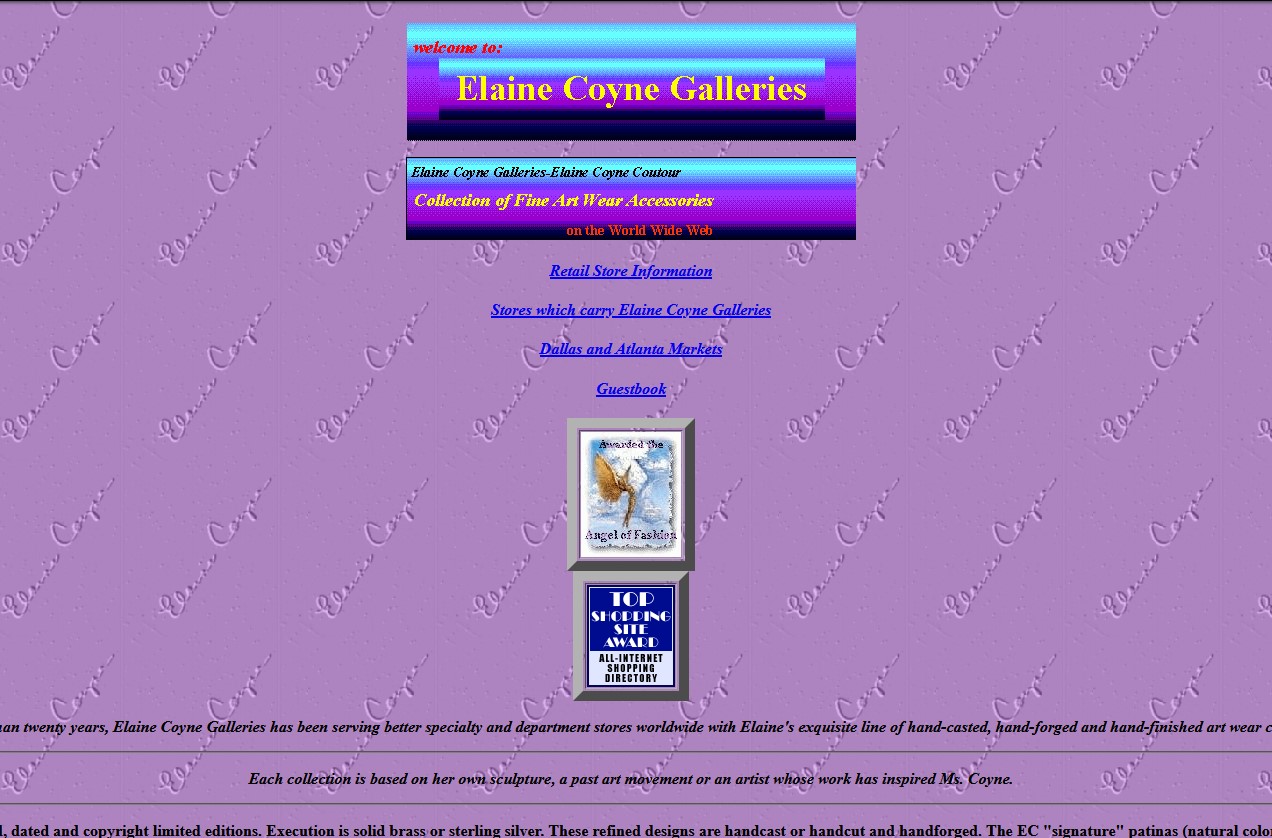 At first it was slow going. Things began to change though, in 1997 as more people began to use the web as a resource.
Since 2005, the internet has produced between 2 to 10 wholesale orders for us every day. Thank goodness we were proactive and thus, it has not been difficult for us to transition into the 21st century.
Words of wisdom: "The world has changed, the economy has changed and every business must rise to the changes and challenges.  Every retail store must have a web presence to augment sales. Every designer must have a web presence to make sure that every last lead produces a final sale. Only by reminders can a new lead turn into a new account. By being ready for that challenge can a company survive the difficult times. What started as a slip in sales in 2008 has become a new way of doing business.
The trade shows simply cannot produce the sales they produced in the 80s or 90s; retailers have become smarter; they are using the web as a resource tool. It is so much more cost effective than the huge expense of going to shows. How can one compare hotel, airfare, food expense and incidentals compared with a click of a mouse? It is a wonderful strategy during hard times. It is a strategy that will remain in our psyche for this new generation." Elaine Coyne
Of course, the web will not completely replace touch and feel. However, it will transform stores and individuals shop, reorder and special order. Since we have been in business for over 30 years, we know the fashion industry and the craft, gallery and gift industry…the highs, the lows, the politics, the drama, the demands and the addiction. We have made the transition to include a successful wholesale web presence. We welcome your store to join our 3000 stores carrying the most exciting art rich line of jewelry with fashion elegance and total appeal to all ages.  From "Young Collectors" to Floral and Leaf and Dragonfly concepts and to our art for art sake lines of Textured Tealeaf, Trimetals done in hand forging to Lost Wax Cast and Museum Collections Elaine always gives 200 % to insure design beauty, special finishes to our collectible art wear jewelry and belts.  Call us at 1-800 741 2523 or email Elaine for any customer related questions or needs. Either she or one of our knowledgable staff will get back to you asap.
And our place in the World of Fashion?
Understated elegance with an eye on quality, incomparable design and fashion mystique.  Seasonal colors and practical colors are always included in all our wholesale show to make sure you are on top of the trends every year.